Recently when the oil and gas market starts picking up, GN Solids Control also received a good order from an existing customer from South Africa, the 2 sets of drilling cutting management system. The 2 sets of cutting management system have been finished and shipped to South Africa, we believe soon it will be another successful project case for GN.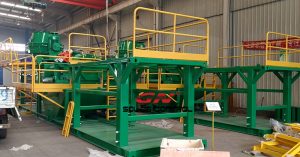 The oil based drilling cutting management system mainly consists of the following 3 solid control equipment: the cutting dryer, High-G shale shaker and the decanter centrifuge which are also the 3 core products for GN Solids Control. These 3 products are most popular among customers and contribute a lot of sales revenue to the company. The cutting dryer 930 series has the feature of fixed speed of 900RPM to product 750 G for the cutting separation. This feature can make the cutting drier and meet the operator's requirement. It also has some safety and pretention feature. The oil circulation system will be able to protect the bearing while rotating the shaft. And without running the oil pump for a while, usually for 1 minute, the operator can't start the main motor. This feature will protect the damage to the equipment and save money for maintenance. The high G shale shaker has also got some upgraded feature, GN's engineer has widened the shaker deck width for easier collection of the drilling cuttings from the cutting dryer. This will also make the work more  effectively and efficiently. There are 3 options for the decanter centrifuge size choose, 14, 18 and 22 inches. After the separation from the cutting dryer and High-G shaker, the decanter centrifuge will have even finer result to the separation. It can achieve 2-5 microns, which will make the discharge meeting the environmental requirement.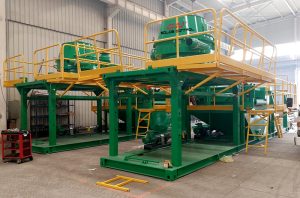 Welcome to visit www.gnsolidscontrol.com to get more info and send your inquiry to usa@gnsolidscontrol.com.