This week we shipped one unit of GNLW454EP decanter centrifuge and one batch of screw conveyor are shipped to waste water treatment company.
GNLW454EP decanter centrifuge technical specification is as below: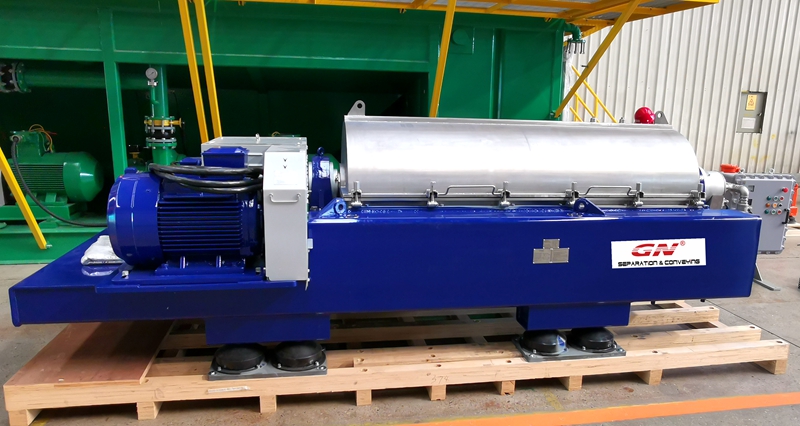 The bowl diameter: 450mm (18 inch)
Bowl length: 1890mm(74.5 inch)
Bowl speed: 3500rpm
Max G force:3084G
L/D ration: 4.2
Main motor power: 55KW
Back drive motor power: 22KW
Beach angle: 11 degree
Bowl material: duplex stainless steel 2205 by centrifugal casting
Screw material: duplex stainless SS316L
Screw impeller protection by tungsten carbide tiles for longer working life and reliable operation
Drive system by VFD control panel with PLC smart control and HMI interface.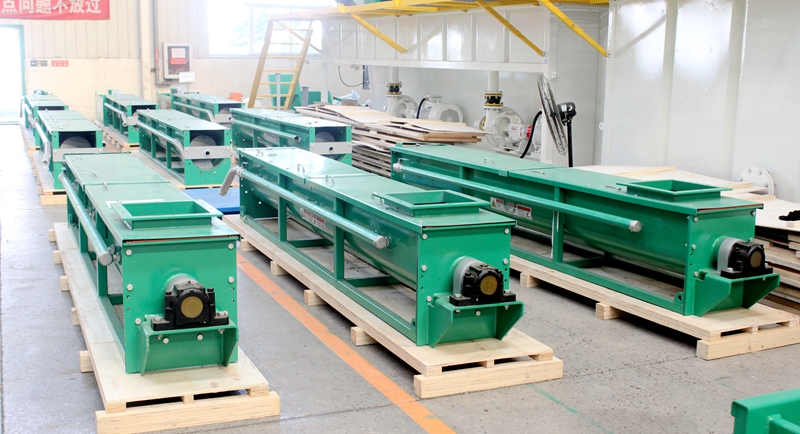 GNLW454EP decanter centrifuge is used for waste water treatment by working with chemical dosing system. Except for this model decanter centrifuge, GN also produce 9 inch bowl, 14 inch bowl, 18 inch bowl, 22 inch bowl, 30 inch bowl decanter centrifuge with different treating capacity. They can be used to treat materials for oil & gas drilling mud, drilling waste, oily sludge, industrial waste water, mining tailings, dredging slurry, etc. The G force and operation speed influenced the separation performance a lot.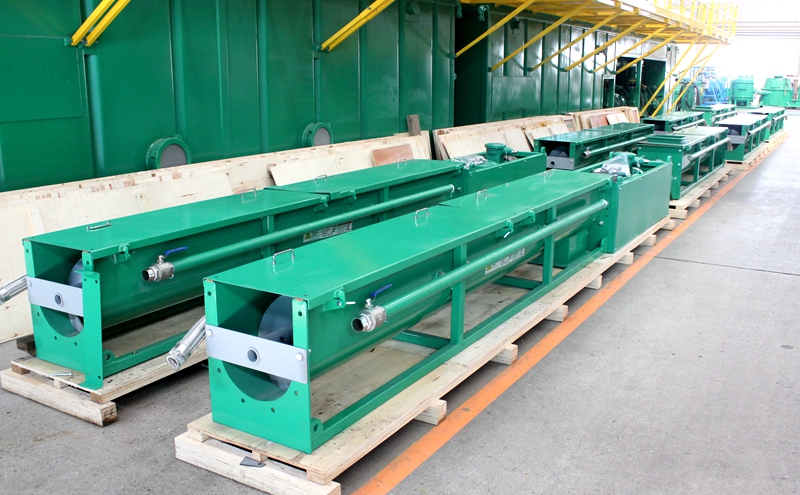 The screw conveyor is widely used to transfer the material with high solids content. Each section with 12ft length, we can select different qty sections to meet customer's requirement, 1 section length is 12ft, 2 sections is 24ft, 3 sections is 36ft, 4 section is 48ft. Each auger with protection cover to avoid spilling outside the auger. The flights are made of Mn Steel, wear-resistant coatings can be also sprayed to extend the using life. The bearing is from FAG or NSK brand for reliable performance. The water flushing pipe is equipped outside the auger for flushing.
If you need waste water treatment decanter centrifuge and screw conveyor, pls contact with GN solids engineer.