GN Solids Control specializes in manufacturing solid control equipment and mud recycling system. Since its establishment in 2007, it always focused on the quality, consistency and cost economy, and help the customers save more and more money during the project process. And among all the solid control equipment, there are there core products that have been proved to be more rugged, durable and reliable which are: shale shaker, decanter centrifuge and cutting dryer.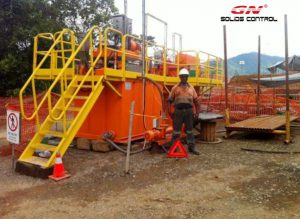 The mud drilling system is mainly composed of 223 decanter centrifuge, 752 shale shaker and some solid removal units and parts. GN's 223 decanter centrifuge is also called the baby decanter centrifuge due to its mini size which is specially used for diamond drilling job.  There are great features about the equipment: the bowl material is made from duplex stainless steel SS304 which is manufactured by centrifugal casting. The discharge port is protected by special ceramic inserts or by tungsten carbide tiles which is made by world famous manufacturer with longer working life. The adjustable effluent port makes the pond depth adjustment easier and fast. The pneumatic controlled spring will make the opening of the cover more easily and safely. During the transportation, the bowl lifting bracket can perform as the cover of the protection for the bearings. The bearings are made by the world famous NSK/FAG. The conveyor surface is protected by Tungsten carbide tiles which is more endurable and easy for maintenance. The electric components are controlled by SIEMENS or SCHNEIDER. GN's 752 shale shaker is also made for the diamond drilling industry. The vibration mode is linear motion with the processing capacity is 200GPM. The adjustable G force could be up to 7.1G. The motors of vibrators are made by OLI or MARTIN which is certified by ATEX, UL or IEC. There are 2 panels of screen installed on the shaker which is pre-tensioned with high quality. Electric components are also made from SIEMENS or SCHNEIDER. And by installing the hydrocyclones on the shale shaker, it could be modified to mud cleaner which can separate even smaller solids up to 20 microns.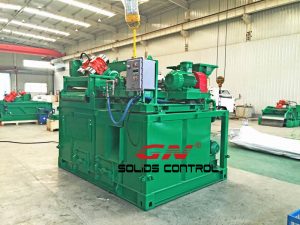 Here is the brief introduction of the solid control system for the oil and gas drilling. Welcome to visit www.gnsolidsamerica.com and please send your inquiries to USA@gnsolidscontrol.com. We will try our best to help your business achieving great success.