Recently 2 package of tandem shale shaker are shipped to India client, we have finished the necessary inspection before delivery, water test and mud test under the required API mesh size.


The 2 units of single shale shaker are installed on one oilfield 3 runners skid as tandem shale shaker for convenient shipment and operation. 3 pcs of pre-tensioned durable composite material shaker screens are installed on the shale shaker, the deck bottom are made of stainless steel for better anti corrosion. The shaker deck, vibration beam and all the vibration and non vibration components are all made of stainless steel. The shaker skid are made of structure steel for better strength. The vibration motor and starter including the cables, cable glands are all DGMS approved explosion proof products, which can meet the user's requirement in explosion proof standard.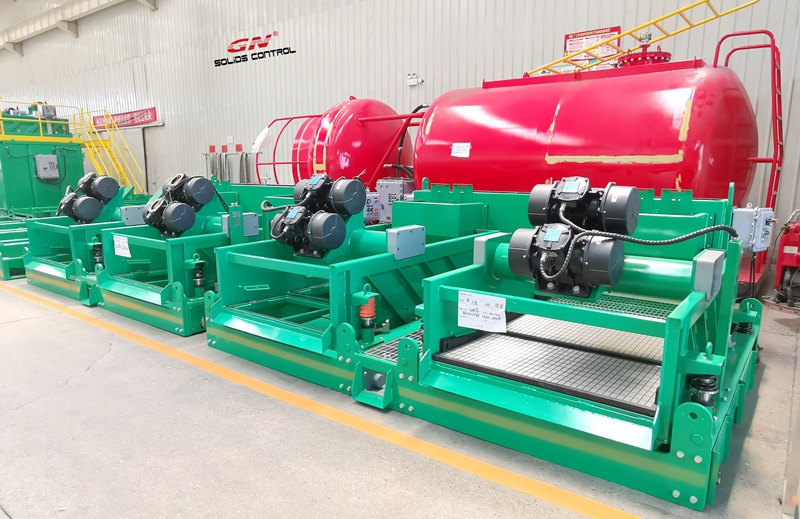 The shale shaker is designed to treat both water based drilling fluids and oil based drilling fluids, the operation temperature is -5℃ ~+55℃. We can produce shaker screens comply with API RP13C standard, the API mesh size is from API 20 to API 300 based on client's requirement. The wire mesh material is made of SS316L for longer working life, and 4 corner pre-tensioned before heating press process will increase the working life of the shaker screens.
The shale shaker is most important solids control equipment and the first phase cleaning equipment for a solids control system, a better performance shale shaker can reduce the drilling waste volume, so that the drilling waste treatment cost will be reduced, and it can recovery more useful drilling fluids for the drilling rig, reduce the burden of next step cleaning equipment like desander, desilter, mud cleaner, degasser and centrifuge.
If you need solids control equipments and drilling waste management system, pls contact with GN solids control.