Recently one set of containerized vertical cuttings dryer system and containerized drilling fluids treatment decanter centrifuge unit are ready for shipment to overseas mud company for OBM drilling cuttings treatment. The system configuration is as below: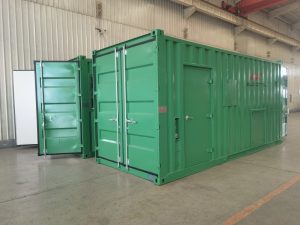 1. vertical cuttings dryer module including: GNCD930G vertical cuttings dryer, container to install the equipments inside it, screw conveyor which is used to collect drilling cuttings and transfer to vertical cuttings dryer, screw conveyor to collect the discharged cuttings from vertical cuttings dryer discharge port and transfer it to waste collection box, flushing pump for vertical cuttings dryer, lifting device for vertical cuttings dryer screen basket replacement, transfer tank, etc. All of the equipments are installed in the container with windows and doors. The purpose is for fast installation and convenient transportation, also it can meet the requirement for cold weather area use in Winter.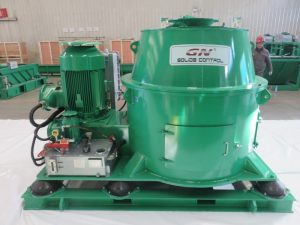 2. Decanter centrifuge module including: GNLW363D-VFD vertical cuttings dryer, container with window and doors, decanter centrifuge feeding pump, screw conveyor to collect the discharged solids from centrifuge discharge port and transfer to waste collection box. If without the container with special Insulation layer, the project in the area with low temperature in Winter will have to stop and wait till the fluids be unfreezed, the customized design can meet their requirement in special conditions.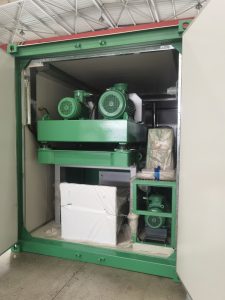 Except for containerized vertical cuttings dryer and decanter centrifuge system, GN solids control can also provide skid mounted drilling waste management system for oil based mud drilling waste treatment. The features of skid mounted drilling waste management system is convenient operation, convenient transportation, high efficiency, economic cost. It can be lay on the drilling rig besides solids control system, or it can be installed in the drilling waste treatment facility, the screw conveyor system can be installed flexibly according to the layout and space limit.