GNLW554EP is big bowl big volume decanter centrifuge with bowl diameter 22 inch and L/D ratio 4.2. It is the ideal decanter centrifuge for dewatering unit, it can be also used for oil sludge treatment system. The technical specification is as below: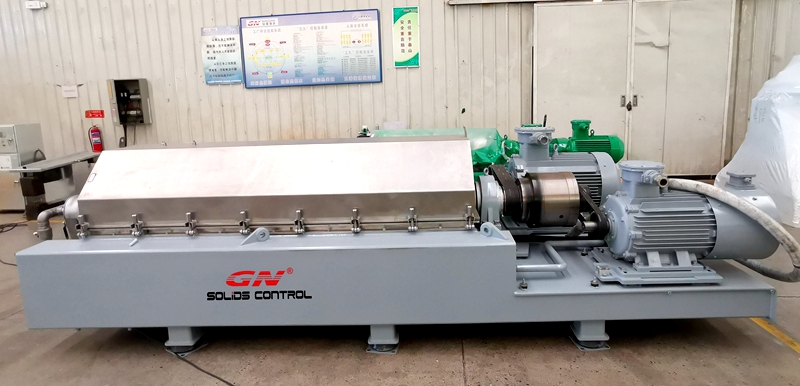 Centrifuge model: GNLW554EP-VFD
Bowl diameter: 22 inch (550mm)
Bowl length: 91 inch (2310mm)
Designed capacity: 600 gpm (136m3/h)
Typical capacity: 480 gpm(108m3/h)
Max bowl speed: 3150 rpm
Typical bowl speed: 0~ 2800 rpm
Max G force: 3051G
Typical G force: 0 ~ 2412G
Cut point: 2 ~5 microns
Differential speed: 0 ~45 rpm
Gearbox Torch: 12000 N.m
Gearbox ratio: 35:1
Main motor: 90KW (120HP)
Back drive motor: 45KW (60HP)
The max capacity is measured for water, it will be various as per different material conditions, like oil sludge, dredging slurry, drilling waste, drilling fluids, industrial waste water, etc.
The decanter centrifuge can be drived by VFD control panel, which is positive pressuried VFD control panel with PLC smart control and touch screen , 3 motor VFD, main motor, back drive motor, pump motor, self cooling system or external air conditioner for suitable environmental temperature -20~+40℃ or -20~+55℃.
The centrifuge features is as below:
1) The bowl of GN centrifuge is made from Duplex Stainless Steel SS2205 or SS2304 by centrifugal casting which is better than SS304 or SS316.
2) The solids discharge port is made from Tungsten carbide inserts, The mud distribution port is made from Tungsten carbide inserts, the anti-abrasion will extend the life for heavy mud anti-abrasion will extend the life.
3) 3 Stage balancing process to maximize the balance of the centrifuge include 1800RPM low speed balancing and real operation high speed balancing as well as the assembly balancing.
4) The Screw is protected by interchangeable Tungsten Carbide Tiles for longer life and easy maintenance.