GNLW363 is always top seller decanter centrifuge of GN product list and that model is well known to many drilling companies and oilfield service companies. At beginning of year 2014, GN Solids Control has improved the design of this centrifuge by locating 2 motors on same side of centrifuge.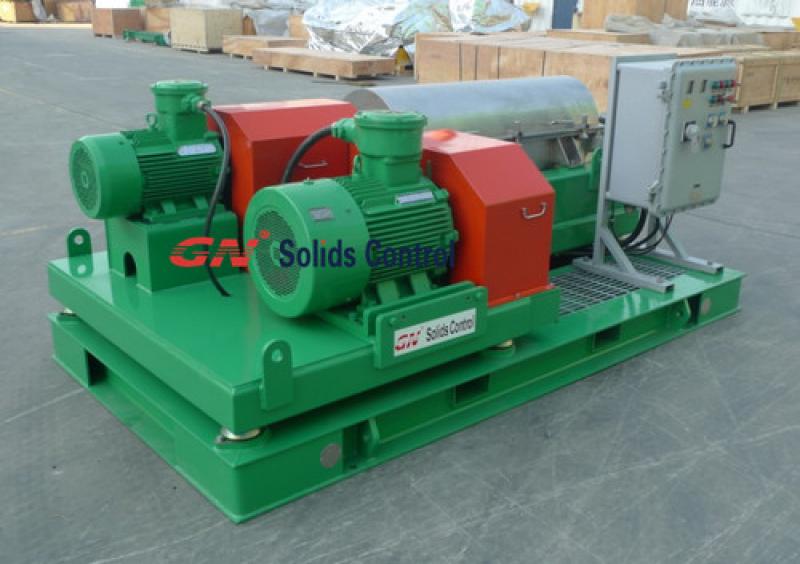 Technical advantages of GNLW363BG decanter centrifuge:
GNLW363 centrifuge can get a high speed up to 3900 RPM, in case of VFD control, speed can be easily adjusted from 0 RPM to 3900RPM, can be suitable for various applications including middle speed and high speed.
GNLW363BG uses International highest material, SS2205 for main body of rotating bowl and tungsten carbon tiles for impeller protection.
Bearing for GNLW363BG is world famous high quality SKF bearings.
GN's special protection for bearings during transportation.
GNLW363BG-VFD has 3 VFD control for main motor, back motor and centrifuge feeding pump.
Advantages for New Location of 2 Motors:
Comparing with formal design, 2 motors located separately on both sides of centrifuge, the functions and working principle for motors remain the same. But this design still has its advantages:
More compact in structure.
Easier to open the collection box cover, and leaving more space for maintenance.
Since early this year, GN Solids Control has started manufacturing for new design GNLW363 Centrifuges. Now there is one brand new, old model in stock for sale. It has same high standard of GNLW363BG high configuration centrifuge, only different location of motors. You can have a discount up to 20%.
Only 1 set left, may you have interest, pls do not hesitate, contact me now!
renee@gnsolidcontrol.com