GN Solids Control recently won a new order from Russian customer and just finished the production of the equipment in the order and shipped all of them to the destination-Russia. This order mainly includes shale shaker, mud cleaner, decanter centrifuge and centrifugal pump.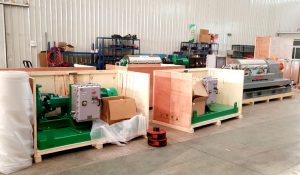 GN's product line covers almost everything in the solid control business area, and the products in this order are the core products, which are mature, more endurable, and popular with customers. The shale shaker, mud cleaner, decanter centrifuge and centrifugal are key elements in the solid control system for mud recycling. The shale shaker is usually used for coarse separation. It usually separates the large stones and solids by its vibration and equipped shaker screens. Now with GN's newly developed composite frame screens, the shale shaker could be more popular and be welcomed and known by more and more customers. And now GN also has many shale shaker and screen combination promotion sales. Welcome to call GN to get more details. The mud cleaner will do the further separation after the shale shaker. It used the hydrocyclones to separate the solid from the mud. Now GN can manufacture two kinds of cyclones, 4 inch and 10 inch.  The mud cleaner can separate the solid size from 20 to 40 microns. If the customer need even finer separation after the mud cleaner, GN can offer decanter centrifuge to them. The decanter centrifuge can separate the solid size up to 5 to 10 microns. Now GN can manufacture three types of centrifuge, mechanical, full hydraulic and VFD. Just let GN know your requirement and GN will make whatever you need. The centrifugal is usually used to be as the feed pump in the system, it supply slurry for the mud cleaner, decanter centrifuge for separation.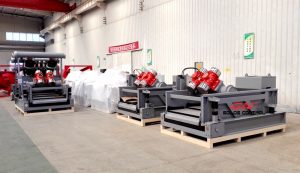 Welcome to visit www.gnsolidsamerica.com and please send your inquiries to lucas@gnsolidscontrol.com . GN will try its best to help your business achieve more success.