As a complete zero discharge system manufacturer in China, GN solids control can produce customized zero discharge system and major equipments, including linear motion shale shaker, mud cleaner, decanter centrifuge, vertical cuttings dryer, screw conveyor, screw pump, collection tanks, etc. The working process is as below: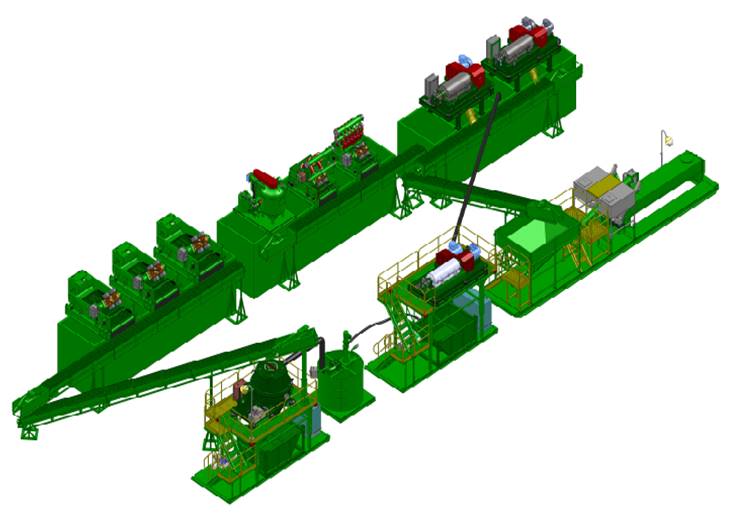 The used drilling fluids flow to 2 or 3 or 4 units of solids control shale shaker, the fluids dropped into the mud tank, the drilling cuttings are separated out and collected by screw conveyor and transfer to vertical cuttings dryer ( if for oil based mud or synthetic oil based mud), to reduce the moisture and oil content, the discharge cuttings with oil content below 5%, which can be disposal directly or for land fill. If for water based mud, we will use high G drying shaker to dry the water based drilling cuttings. The recovery fluids flow to intermediate tank, which will be feed to VFD decanter centrifuge by its feeding pump ( screw pump). The fluids discharged from decanter centrifuge will be transferred back to solids control system mud tank and mix with chemicals to prepare for new drilling fluids.
The mud cleaner is a combination of desander cone, desilter cone, bottom shale shaker, with 2 units of centrifugal pumps as feeding pump of desander cone and desilter cone. The desander cone separation cut point is 45 microns, the desilter cone separation cut point is 25 microns. The fluids treated by desilter cone flow to mud tank. If required, middle speed decanter centrifuge and high speed decanter centrifuge will be installed after mud cleaner. The discharged solids from mud cleaner and decanter centrifuge will be collected and transferred to solidification unit together with the solids discharged from VFD decanter centrifuge.
If you need zero discharge system, pls contact with GN solids control.