GN Separation Equipment Co., Ltd(GN Separation)is wholly-owned subsidiaries company of Hebei GN Solids Control Co., Ltd. The Mining Business Department of GN separation focus on for the development and producing of mining vibrating screening equipment. Except for stack vibrating screen-fine sizer, medium mining vibrating screen, GN separation also develop large double deck mining vibrating screening equipments, including the series as below: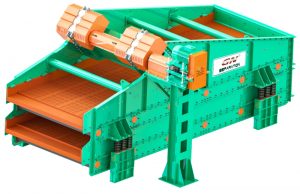 1. Large double deck Linear vibrating screen, we have single deck large linear vibrating screen and double deck large linear vibrating screen, the handling capacity of materials with the same size and different working conditions varies greatly.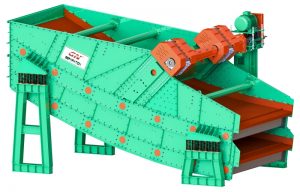 2. Large double deck Banana vibrating screen, it is mainly used in dry and wet classification, desliming, demineralization and others. The inclination angle of the screen surface at the feeding end is big, which lead the materials to be treated move faster. When the user decrease the inclination of the screen surface, the flow rate will be reduced, which improve the screening probability and improve the screening efficiency.
3. Large double deck Flip Flow vibrating screen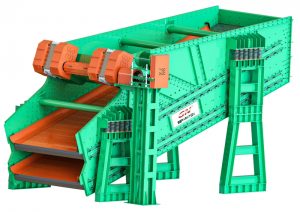 The above mining vibrating screen adopted polyurethane screen panel with coarse screening and fine screening.
GN polyurethane screen panel – coarse screening with screen panel opening 0.2 ~ 30mm, it is made of polyurethane wrapped metal skeleton, with features of good wear resistance and strong corrosion resistance, but lack of high temperature resistance and good conductance.
The fine mesh polyurethane screen with screen panel opening is 0.045mm ~ 2mm, with high strength, high elasticity, high wear resistance, but conductance is not so good.
Another type mining screen is metal gap screen panel – coarse screen (opening 0.2 ~ 30mm) and stainless steel wire mesh screen – fine screen ( opening 0.038 ~ 2mm).
For more information about GN large mining vibrating screen, pls contact with GN Separation.