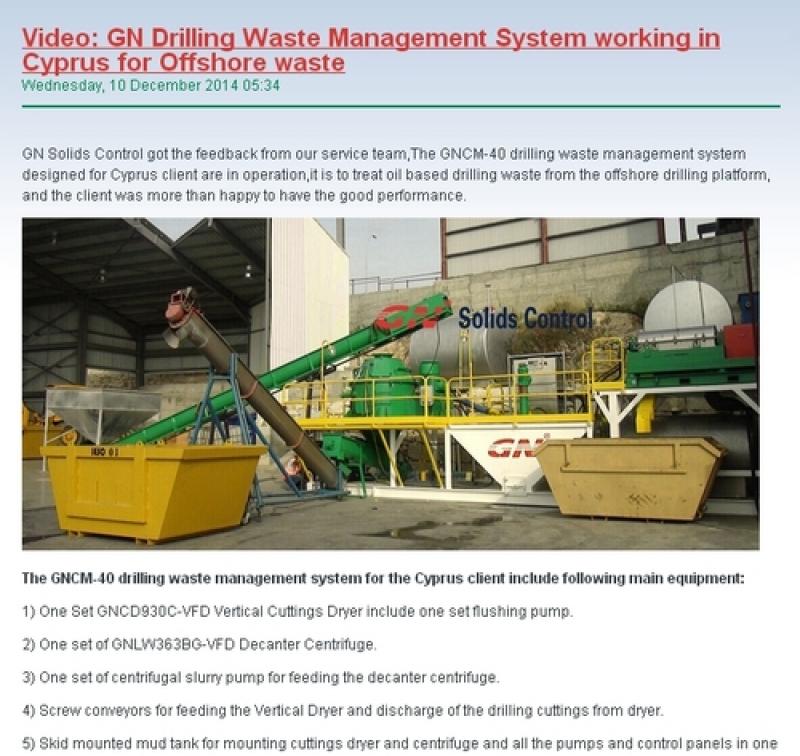 Every year, the CIPPE OIL SHOW, as one of the largest influencing Oil Shows in the world, has attracted most of oil and gas companies to attend, and also many visitors and traders. For the coming CIPPE2015 to be held in March in Beijing, GN's booth is in E1 Hall, with No E1-E1 360. For attending this oil show, and to provide the customers a more comprehensive view of GN Solids Control, GN has prepared below systems and equipments for the Show.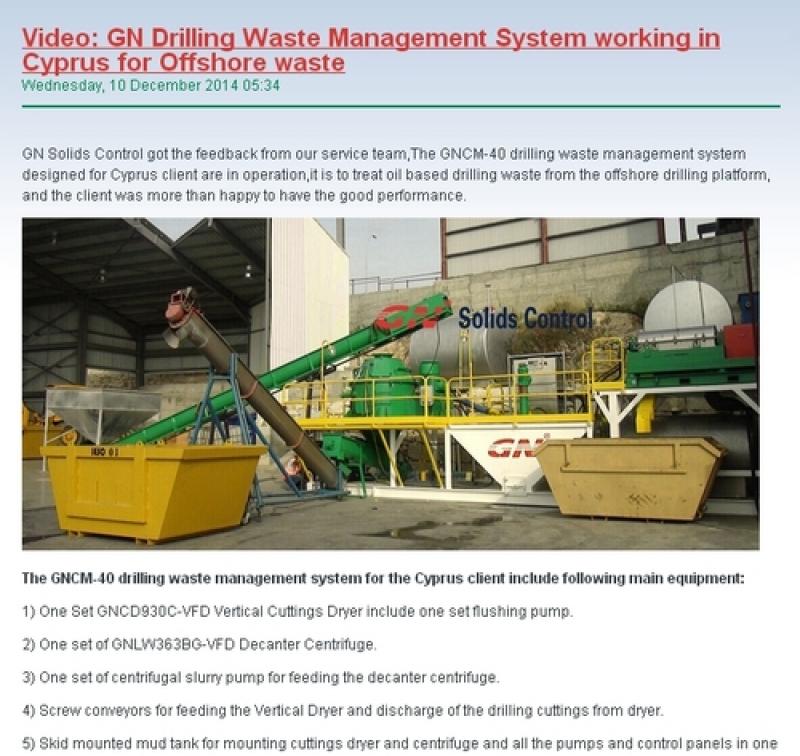 1, a standard design of Drilling Cuttings System including: GNCD930D vertical cuttings dryer, GNLW363CG-VFD waste management decanting centrifuge, feeding pump for centrifuge and flushing pump for vertical cuttings dryer.
This system has been used in many jobsites all over the world, and proved to be efficient, below are some working videos for your reference:
2, GN's full series of Decanter Centrifuges, including 9 inch diameter bowl, 14 inch diameter bowl,18 inch diameter bowl and 22 inch diameter bowl, from baby centrifuge to big bowl centrifuge. Centrifuge is one of GN's core products, and these centrifuges could cover various applications like mining, solids control, waste management, dewatering and etc.
3, GN's Solids Control equipments including Shale Shaker, Mud Cleaner, Desilter with underflow Shaker and etc. GN has advantages in such equipments not only because of good material GN uses for manufacturing, but also, like special designs and patent GN applies for them.
If your schedule doesn't allows for the CIPPE Oil Show in March in China, you could also visit us on the other side of the world. Cause GN is first US based China Solids Control company in USA. GN has a branch company in Houston, USA. GN Solids Control and GN Solids America will both attend OTC Oil Show held in May in Houston.
May you have plan for either of above Oil Shows to see GN, welcome to contact us freely.