GN Solids Control is the world famous solid control equipment and mud recycling system manufacturer, As the leading manufacturer for shale shaker, mud cleaner, decanter centrifuge, cutting dryer, centrifugal pump, etc, GN's brand and products are recognized by more and more international customers. And recently the BAUMA 2016 just closed in Shanghai, China. Even though the industry is at its downturn, the show still attracted exhibitors and visitors from more than 147 countries, the total attendants are more than 170,000. The construction industry and civil works are very important market for GN, in this area, there are many customers using GN's solid control equipment and mud recycling system. So GN also aggressively attended the show and demonstrated its latest products.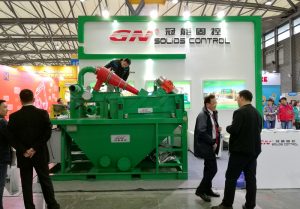 The products GN demonstrated at the show is a set of mud recycling system, which is mainly composed of a desander, shale shaker, mud tank and centrifugal pump. This product can be used in HDD, piling, microtunneling, dredging, civil works and so on. The desander can separate the solid size up to forty microns. First the feed pump will supply the slurry into the shale shaker for coarse separation, the solids will discharged from the system and the find liquid will be dropped into the mud tank, then the mud will be pumped into the desander for further separation, and the finer liquid will be returned into the mud system and the solid will be separated out of the system. This is just one type of mud system, GN can make different configurations of mud system for different customers, for example, the shale shaker can be changed to double layer, the desander can be changed to desilter for even finer separation. GN can make any configuration according to customer's requirement. Welcome to send your inquiries to GN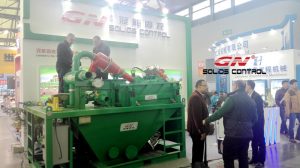 Welcome to visit our website www.gnsolidsamerica.com and get more information, please send your inquiries to USA@gnsolidscontrol.com .